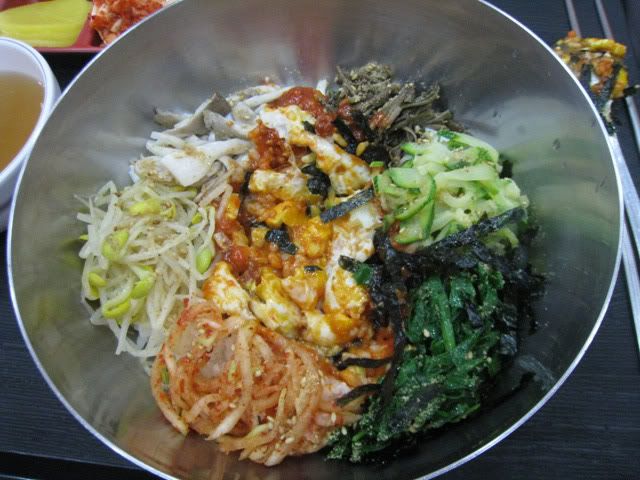 On my way through Jinju, I couldn't pass up the opportunity to sample the regional dish, Jinju
bibimpab
. Each region has its own dish representative of the area's particular culinary specialities.
When I lived in Sri Lanka, I had managed to keep a strict vegetarian almost vegan diet for about one year, which wasn't all that difficult. Unlike Indian cuisine, dishes containing meat such as beef or pork are quite common. However the varieties of vegetarian or fish recipes are so numerous and flavourful, they are usually the preferred option. Once in Korea, I quickly discovered maintaining similar eating habits would be a challenge.
Although Koreans eat a mostly vegetarian diet, Korean dishes with no seafood or meat are extremely difficult to find. Even if not visible to the eye, the seasoning or stock may be meat-based. I wanted to take advantage of my time here and be able to sample all of the local fare. So, I knew I would have to modify my diet. But I was determined to continue eating meals that consisted mostly of vegetables and grains. So,
bibimbap
became a frequent choice from the menu.
The dish comes in many variations. Jeonju
bibimpab
with over 50 local ingredients is the most famous variation of the recipe. Many will be meatless, although there will be an omnipresent egg. The standard ingredients consist mostly of shoots, sprouts, roots, rice, barbecued beef and an egg. For seasoning, you'll have a dollop of fermented chili paste (
kochujang
), sesame oil, sesame seeds and strips of toasted sea weed (
kheem
). The Jinju version adds slices of cooked and seasoned zucchini, Asian radish, and Shiitake mushrooms.
The assortment of colours and aromas made it difficult to resist. The presentation itself had my mouth watering. After mixing up all the ingredients in my bowl, I started on my meal savouring each spoon full. Not only did it taste incredible but it's nutritious and quite filling. I continued to find little sesame seeds in the crevices of my mouth. I happily chewed them reliving the meal with each bite.
by Paula Kim